Informed water management stands as a cornerstone for Central Asia's sustainable development and resilience. By considering ecological, social, and economic factors, this approach ensures that water resources are allocated judiciously, benefiting both present and future generations.
In June 2023, FutureWater, a partner of the WE-ACT project, visited IWMI Regional Representative Office for Central Asia in Tashkent, Uzbekistan. This visit was a part of the Water Allocation Modelling within the WEACT project, with the primary goal of unraveling the complex water-related challenges posed by climate change. Additionally, the visit aimed to identify potential strategies to mitigate these challenges and gain insights into the regional data platforms under the WE-ACT project's scope.
Collaborative efforts toward common goals
This visit served as a platform to share insights, ideas, and visions for how their collaborative efforts could contribute to the overarching goals of the WE-ACT project. 
The main focus: Engaging with stakeholders.
Engagement with key stakeholders and institutes in the region was a critical aspect of this journey. FutureWater, in collaboration with IWMI, undertook fruitful meetings with significant groups such as the Central Asian Interstate Commission for Water Coordination (ICWC), the Syr Darya Basin Water Organization, and Uzbekistan Hydromet. This participation has allowed an improved understanding of the region's water-related concerns and potential solutions. 
The visit resulted in an important collaboration with the Basin Irrigation System Authority for the Andijan Region (BISA). BISA is in charge of water allocation in the Fergana Valley, the primary aquicultural region in the WE-ACT project's demonstration catchment.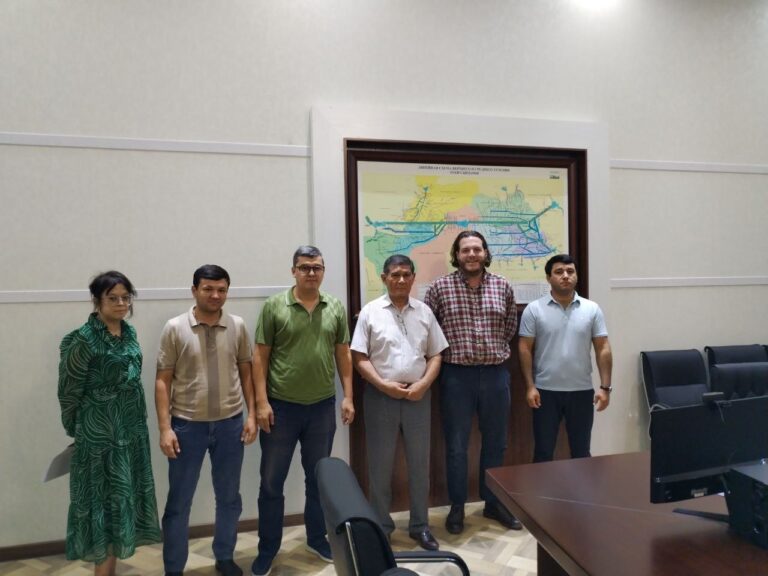 Conclusion: Informed Choices, Sustainable Waters
As we look forward to the outcomes of this inspiring collaboration, one thing is certain: the journey towards water security and climate resilience is stronger when undertaken together. This visit empowered decision-makers to make proactive choices that safeguard water resources for generations to come and identified main opportunities for the Decision Support System.